How to Make Money on Instagram in 2020?
We receive this question several times a day from our followers. So we decided to address this topic in this Blog Post.
Everyone wants to know how to make money on Instagram. 
Instagram has evolved in the past years to one of the most used and most engaged platforms, it offers today something in between of glossy magazine, your best friend's taste, and a boutique shop.
With over a billion monthly users, 72% of whom are under 35 and over 500 Million active users daily. 
There are 7 major ways to make money on Instagram:
Be an influencer to post content sponsored by brands
Be an affiliate marketer selling other people's products
Be an entrepreneur and sell your own products/merchandise (Shopify) 
Sell Shout Outs to Smaller Instagrammers
Offer a Paid Service/Tutorials/Services
Be A Coach
Offer Instagram Management Services
 Let's jump into details. So How can you make money on Instagram?
Strategy 1: Influencer Strategy
You might be thinking of Sponsored posts when you hear the phrase 'Instagram influencer.' There are over 500,000 active influencers on Instagram as of early 2019.
To simplify the requirements, you need an Instagram account with decent follower amount and good engagement rate. In other words, this strategy is for you if you're good at making strangers on the internet like and trust you.
with right strategy you can grow with each and every post!
Of course, there's a downside: not all brands are born equal, and it might not be Dolce & Gabbana knocking on your door at first. Plus, there's a wealth of scammers out there targeting aspiring influencers.
Even if you succeed with the sponsored content route, you'll probably need to reflect on the balance between your integrity and your revenue. It's your personal brand on the line, after all. And people trust authenticity.
You'll need to put every brand who wants to work with you through a rigorous "does this fit my brand?" test. Read more about how one Instagram influencer knows which opportunities are right for her.
Here's how to get started as an Instagram influencer.
Step 1: Choose a niche
If you really want to get paid on Instagram, you're going to be living and breathing your personal brand. Be sure you truly love it and that new lifestyle is what you want.
And consider how your potential partners see things. Brands will be comparing your audience to their target market. According to a recent study, 55% of brands say they prefer micro-influencers, who they perceive to have a more authentic connection with their audience.
That means the more specific you get, the better. Be unique and be real.
Step 2: Build trust & grow your audience
81% of Instagram influencers have between 15,000 and 100,000 followers. If you're not there yet, don't panic. Although there are many tips and tricks on how to grow, you won't find any shortcuts to growing your follower count, you will have to work hard! 
Step 3: Partner with brands
There are two main routes to linking up with brand partners:
Find them by pitching them directly. Contact the brands you admire yourself and tell them what you can offer. Prepare a brand pitch, find areas, where you can add value to a brand you approach.
Help them find you by signing up with an influencer marketing platform. There are a lot of these marketplaces.

 

AspireIQ,

 

Upfluence,

 

and

 

Famebit

 

are good places to start.
Get first insights about influencer marketing 
On a positive note, brands are eager to seek out effective influencers. If you're curious about how they view this whole endeavour, check out our guide to working with influencers for some insight into a brand's perspective.
Step 4: Post transparently
As an influencer in America or the UK, you are legally obligated to make it clear when you are posting an ad. The American Federal Trade Commission's guidelines require your disclosure to be obvious and easy to understand. Meanwhile, the Advertising Standards Authority in the UK doesn't care for any coy allusions: say #ad, not #gifted.
To stay on the right side of the law, use the #ad hashtag above the fold (i.e., in the first three lines so people don't have to click around to find it.)
Strategy 2: Be an affiliate marketer
This strategy is less about creating awareness and increase reach of a brand and more about making sales. You can make money only when your followers actually buy the product or service your are promoting. On the plus side, as an affiliate marketer you don't need to worry about producing that product, fulfilling orders and customer care issues.
The downside is that this strategy requires a solid strategy, if you want to grow without annoying and bore your audience. Be aware, that the term 'affiliate marketing' has a bad reputation. It can be associated with scammy promises and promoters of seven-figure monthly incomes and… luxury lifestyle. I am sure some familiar names are popping up in your mind right now.
Before you begin Instagram affiliate marketing, understand the laws around FTC disclosures
I could not publish this post without a reminder that if you are posting something for financial gain in digital or social media, you need to disclose this relationship with your audience. While I am not a lawyer and you should seek one out for proper legal guidance, the FTC has clearly indicated that the hashtag #ad should be used in your post – and it should be "easily noticed."
Approached ethically, affiliate marketing is actually a smart, and well-established angle on marketing. You recommend your favorite pens, or mascara, or dog food, and provide either a link to buy the product, or else a promo code with a small discount. Both link and promo code are unique to you, so the merchant can track sales back to your efforts. You earn a fee or percentage for every sale.
Meanwhile, as Instagram rolls out product tags and Instagram Checkout, marketers are no longer limited to saying 'link in bio.' As customers find it easier to buy on Instagram, affiliate marketers may well see their sales increase.
Step 1: Choose a niche
An affiliate marketer's niche differs from a sponsored influencer's niche in that they can be more product-focused. For instance, affiliate marketers sometimes start as product reviewers.
If you're just starting out, you have the luxury of choosing an audience with specific material desires, e.g., dog owners who want guidance and deals on the best dog food. (And the best collars, the best dog bowls, the best dog goggles, et cetera.)
Step 2: Find merchants to affiliate with
With billions of users and a large, captive audience, Instagram and affiliate marketing are a natural match. And, you don't necessarily need a ton of followers to start making money.
In fact, many brands target Instagram users with between 2,000 and 15,000 followers, not the Kylie Jenners or Instagram Eggs of the world. Rather, they want "real" people with engaged audiences.
If you're looking to make money on Instagram, here are the best affiliate programs to look into.
1. Amazon Associates
Amazon Associates is a well-known source of passive income for bloggers, but Instagrammers can leverage the platform too. Amazon is unique in the sense that you don't need to have a website to get started.

Amazon's guidelines state that affiliates have at least 500 organic followers and a public account. Instagram, Facebook, Twitter, YouTube, or a traditional blog all fit the bill.
Once you've signed up, your account will be approved for 180 days. During that period, you need to make at least one sale or Amazon will close your account.
How Much Do Amazon Associates Earn?
It depends. The retail giant has divided commissions by category. Special programs like Amazon Wedding Registry, Kindle, or Amazon Fresh offer a flat-rate payout, with most averaging around $3/sale. Others, like Kindle Unlimited, offer $10.
Product categories offer a certain percent commission. Beauty and fashion offer a 10 percent payout, while video games offer a measly 1 percent. Anytime someone uses your link you earn a commission, even if they navigate elsewhere and buy a different product.
Success on Amazon depends on a tightly focused niche social account (read: lots of traffic) or an established blog with a loyal audience.
Amazon Associates could be a good place to start "practicing" your affiliate marketing skills, as it's easy to get the initial "in". That said, if you don't sell anything within your first 180 days, Amazon will kick you off the platform. Be sure to review Amazon's operating agreement before diving in.
2. Rakuten
Rakuten is a Tokyo-based online retailer that allows affiliates to promote goods from 1000+ merchants.
Unfortunately, they don't accept just anyone as Amazon does. Small or beginner affiliates likely won't make the cut unless they have higher than average engagement rates.
Rakuten's platform looks pretty slick—and it certainly makes the idea of being an affiliate look like this sort of cool, tech-forward opportunity. Publishers receive access to a suite of analytics tools, so they can hone in on what's working and what's not.
The process is a lot like Amazon's. You'll choose from a dizzying array of products and can track your progress through a selection of analytics tools.
The site doesn't tell you how much you can earn. Its help section says that the "amount of revenue can vary widely." Which we assume means that commissions depend on the brand and the amount of traffic you drive, rather than the category as you'll see with Amazon.
3. CJ Affiliate
Formerly known as Commission Junction, CJ Affiliate gives publishers a central hub where they can connect with thousands of brands. CJ appears to be more focused on traditional blogger affiliates, but this could work for social channels as well.
The benefit of working with CJ is that its 15+ years in the affiliate game means its partner network is deep. With 3,000+ brands, including big names like Apple, TurboTax, and Home Depot, there's a lot to choose from. The application process is a two-stage affair.
First, you'll need to apply with a link to your website. CJ will review your site—looking at content, traffic, and optimization.
Once you're in, you'll still need to apply to each of the brands you'd like to work with separately. Brands will individually review your website, which means it may be held to a higher standard than you'll find with something like Amazon Associates.
Unfortunately, some users have reported that rates are lower on average than other affiliate platforms. You'll also need to make more than $50 in commissions to get your monthly payout.
4. Skimlinks
What's nice about Skimlinks is that the application process covers all of your bases. For example, once you're in with Skimlinks, you're in with the 20,000 merchants it works with.
You can also embed a snippet of Javascript on your site, and any existing links will be converted to affiliate links.
Skimlinks is geared mainly toward those with content sites. Instagram can definitely drive traffic and increase sales, but this works best for bloggers with a lot of outbound links on their website.
Skimlinks is pretty vague when it comes to sharing details about the payout. The FAQ section on the site says that several factors could affect pay, from product seasonality to how much traffic you drive.
They also take a 25 percent cut from your earned commissions, but there's no charge to use the platform. Unfortunately, it could take a while to get paid. Commissions must be approved by retailers, and sometimes take up to 60 days to clear.
5. ShareASale
ShareASale is a large affiliate network that connects you with around 4,500 merchants.
At a glance, the site looks a bit old. But, the company works with a long list of popular brands: allbirds, ModCloth, Wayfair, Warby Parker, and Reebok. Brands span a wide range of categories and commissions vary by product and advertiser.
Aspiring affiliates must have a website to get approved and share their promotional methods in their application.
The platform isn't super selective, but the company does its due diligence to ensure your content sticks to a specific theme.
Publishers must enter their payment info to get started and must keep a $50 minimum balance in their account at all times. Fail to meet that minimum and ShareASale will charge you $25 to keep your account going. While not a huge expense, you'll want to ensure that you're ready to drive traffic as soon as your account is approved.
6. Clickbank
ClickBank is an affiliate platform that doesn't offer much in the way of screening requirements, which makes it easy for anyone to sign up as a publisher.
ClickBank works a bit differently than the other options on this list. For one, the platform is used for digital products only, not physical goods. As you can see above, some of the products look a little iffy. Keep that in mind as you consider how numerology readings will fit into your Instagram feed.
What's unique about ClickBank is that you get to choose the products you promote based on how much the company is willing to pay. So, while it wasn't especially clear what the payout breakdown might look like, publishers do have some control over who they work with.
One of the biggest benefits is that ClickBank offers some pretty high commissions, in some cases up to 50-75 percent.
7. ShopStyle Collective
ShopStyle Collective is all about helping people monetize their social accounts. It even offers a feature called "Looks" where you can create shoppable images, a major step up from directing followers to an external website. The sign-up process is relatively easy.
After you choose your username and password, you'll fill out a series of short forms that ask how many followers you have, what platforms you use, and so on.
I filled out the form (using fake info, of course) and received a message that it would take 1-2 weeks to review my application.
Unlike Amazon, which basically lets anyone into the fold, ShopStyle does a little digging to ensure that you're an actual influencer.
The company doesn't outright say it, but it's clear that the barrier to entry is much higher than the other platforms we've looked at. It's probably not the best option for the absolute beginner.
According to a ShopStyle, influencers earn a percentage of every sale based on the platform's Cost per Acquisition program. Commissions vary based on retailer.
Strategy 3: Entrepreneurship  
By now it might sound like the only way for an Instagrammer to make money is to sell out and work with other brands.
But creators of all kinds are also in a good position to "sell out" with their own products: physical goods, services, or digital items that can be an extension of their brand, building a business with an audience at its center.
Open your own online store
Shopify is one of the best platforms, since it has a prebuilt checkout system, many Apps to drive traffic and increase conversion rates.
Another hidden gem is the company called webflow. However this platform requires more knowledge of website building and designing. 
You need to invest some time upfront, but in today's world it's almost natural for creators to make the leap into entrepreneurship.
Here are some inspirations for you. 
Best Shopify Stores for Clothing
This company's goal is to help women feel confident in their own bodies. They don't want to rely on push-up pads or bows for women to feel sexy. And it must be working for them since this Shopify store's revenue grew 150% just a few years after it launched. They have gained acclaim from big names such as Forbes, Vogue, and The Wall Street Journal for making a place in the industry and bridging the gap between functionality and appearance.
Unconditional's website design is nothing but striking. It's simple, yet eye-catching. This Shopify store started in London, more than a decade ago. They describe themselves as "a winning combination of the laidback and the edgy".
Best Shopify Stores for Cosmetics
KKW, the hugely popular beauty brand by Kim Kardashian West has been creating storms with the amount of recognition and fame it has gained. Hosting periodic sales, the products are not only very high in quality, but also are sold out within minutes. It's easily one of the top Shopify stores for cosmetics.  
Kylie Cosmetics, the wildly popular beauty company, uses Shopify to run their fantastic online store. Kylie Cosmetics hosts periodic flash sales which are some of the largest on the internet. This is another example of a Shopify store where the products sell out within minutes.
Founded in 2009, this Shopify store example is all about creating high-end vegan, cruelty-free cosmetics with a unique twist. Their policy is less and more — less ingredients, more pigment. They're committed to using no parabens or preservatives in any of their products, and are also 100% gluten-free. Located in Southern California, they provide free shipping worldwide on all orders $50 and above.
Best Shopify Stores for Accessories
This trendy Shopify store doesn't shy away from adding a little bit of color to their shades. Their website is very user friendly and easy to navigate through. They have a number of collections to offer when it comes to products, including autumn shades, winter shades, everyday eye-wear, and more. Oh, and they regularly post their trendy collections on their Instagram page, if you're interested in that. 
Wolf Circus is a Shopify store with a line of fine jewelry products that are hand made in Vancouver, BC. All of their products are hand fabricated or cast using the lost-wax casting process, by using either recycled sterling silver or recycled bronze that's coated in a high grade 14k gold plating. This Shopify store markets themselves as an "attainable luxury". They've gained recognition for their accessories that they've been known to produce with great quality and fine regard for detail.
This Shopify store has a very simplistic design, with just a few navigational options. The element that makes it stand out is it's photography. They describe themselves as a "modern nostalgic jewelry brand". Based in Toronto, they hand-craft every piece that they make, with materials including sleek mixed metals and natural stones.
The above mentioned Shopify stores are bold, big, and incredibly beautiful. By selling your own stuff, you don't need to worry about integrating messages from other brands into your posting strategy. Better yet, you can get your own brand out there and be successful.
Sell more with shopping on Instagram
Start tagging products in your posts and stories to turn engagement into purchases with the shopping on Instagram sales channel.
Fans can show their love and support your work by buying from you—a purchase they can feel good about.
There are a few ways to do this:
You can use a

 

print-on-demand service

 

to print and ship your own t-shirts, pillows, coffee mugs, wall art, and more.
You can sell services such as photography or consulting, using your bio to direct interested people to a contact email or a link to your professional website.
You can

 

sell digital products

 

such as courses, ebooks, or design templates.
You can use your Instagram account to launch a business

 

selling your own original products, or even a book.
Strategy 4: Selling Shoutouts 
An Instagram shoutout, also colloquially called Insta shoutout or IG shoutout, is essentially when one user promotes another user on their own Instagram account.
An Instagram shoutout usually takes the form of User A creating a post or story that contains a photo or @ mention of User B.
If it's a business shoutout, User A's post might contain a photo or video of a specific product or service that User B sells.
An Instagram shoutout can happen in a few ways:
Paid shoutouts:

 

These shoutouts are a classic influencer marketing tactic. This is when you pay a user to promote your brand, typically with cash or via an exchange for a free product or access to your service.

S4S (shoutout for shoutout):

 

S4S is a simple trade – they agree to give you a shoutout on their page if you give them a shoutout on yours.

Voluntary shoutout:

 The Holy Grail of shoutouts. This is when someone is just so darn happy with your product or customer service that they give your brand a shoutout without you even having to ask or pay.
You can buy and sell shoutouts. Use Instagram shoutout app, like Shoutcart or NeoReach to sell your services or approach your potential clietns with DMs (direct messages)
The benefit of the shoutout app is, that it has its own database of pre-vetted influencers that you can sort through based on industry and keywords.
Platforms like these can be a real lifesaver if you don't have the resources or bandwidth to spend hours sorting through profiles on your own.
Strategy 5: Sell Services
Instagram is a very powerful social media network, and can be a great addition to your marketing strategy if it makes sense for your target market and if it's done well.
In this article, we'll take a look at how to structure a plan for selling your services with Instagram.


Pick a Signature Style
Just like when selling products, having a cohesive aesthetic will help your business keep a professional and clean Instagram page.
Using the colors of your brand as accent colors is a fun and easy way to build brand recognition. For example, H&R Block uses plenty of green in their Instagram photos, which not only grabs the eye while scrolling through your feed, but builds on their brand. (Green = Money)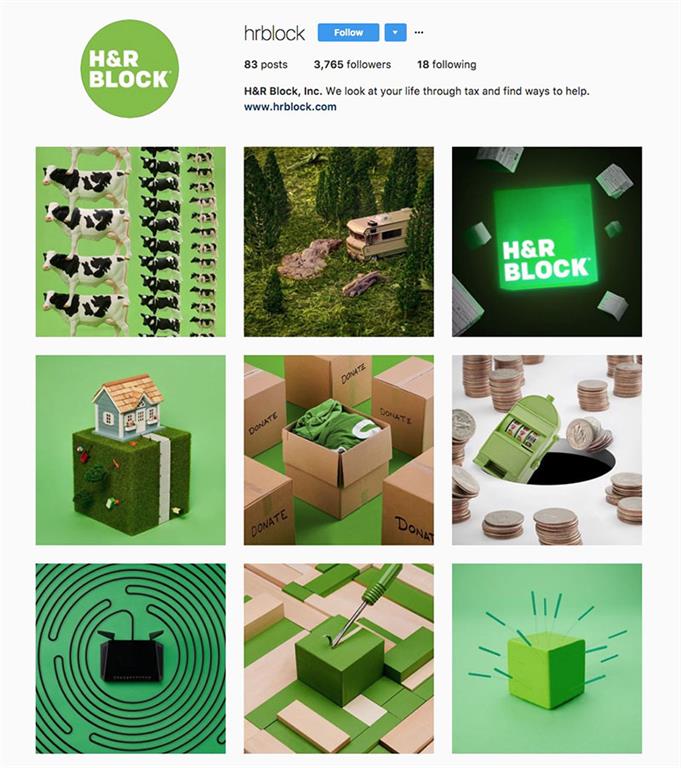 Step 1: Create a Content Mix
Using social media in service-based industries is all about creating connections.
You want to build connections with potential customers by providing value, offering a helping hand, gaining trust, and giving opportunities to relate to you.

To achieve those goals, implement the 4:3:2 rule for every 9 squares of your Instagram page:
Four posts should add value and help your target audience


Three posts should create connections/opportunities to relate


Two posts should promote or sell your service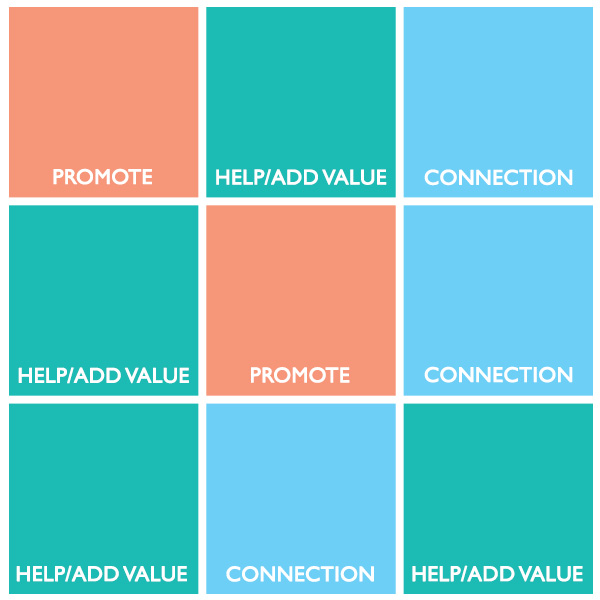 The content mix allows you to develop a relationship with your followers and makes it so you're not only pushing your services.


Step 2: Provide Value in Instagram Posts
Now that you know you should be providing value in your posts, it's time to brainstorm some ways to do that. Every industry (and business for that matter) will vary in what exactly you'll post, but these general themes are a good way to get the creative juices flowing.
1. Educate
People often find service-based businesses when they have a need. If you can sell your expertise by sharing tips that help them with their problem, you will become a resource for them. When they're ready to reach out for help, you'll be top of mind.
Don't be afraid to give away your best advice. Your audience will still be missing context and skill, which is where your business opportunities lie.
2. Entertain
Providing value doesn't always mean, it has to be boring. In fact, using humor every once in a while in your feed is a great way to grab people's attention to a business that might otherwise be considered boring.
3. Inspire
Our last way to provide value through your Instagram is to post inspirational quotes. However, not just any inspirational quote will work the same.
When a potential customer comes to your business with a need, it often stems from an underlying dream or fear. Find ways that your business fits in with either promoting their dream or alleviating their fear.
For example, SkillShare is a service where you can sign up and access over 180,000 classes online that can teach you all kinds of artistic and practical skills such as watercolor painting, calligraphy, marketing, game design, cooking, and much more. They posted an inspiration quote that would play into the dream of an artist looking to create more.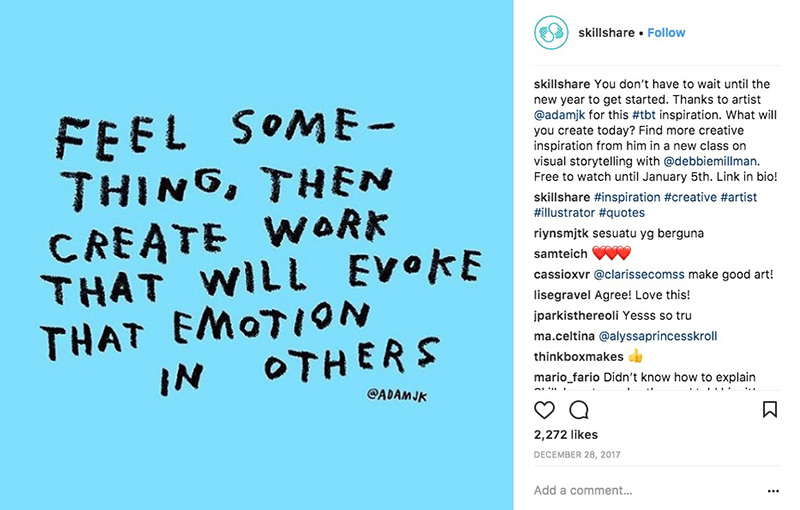 Step 4: Connect with Your Audience
Three posts in your Instagram content plan should include ways to connect with your audience. These are the times to show your brand's personality and share relatable stories.
Step 5: Showcase Your Company
No matter the industry, people love seeing behind-the-scenes action of what makes a business tick. If you're not convinced your service is interesting enough, just know that even Sandra Lee, MD aka Dr. Pimple Popper has over 2.6 million followers that crave to see behind the scenes of her dermatology work. (Don't worry, we won't show an example from her.)
A simple way to showcase your company is through your employees.
Here's an example from Angie's List of their employees at a convention. It doesn't really have anything to do with their business, but gives their audience a chance to know the people behind the screen.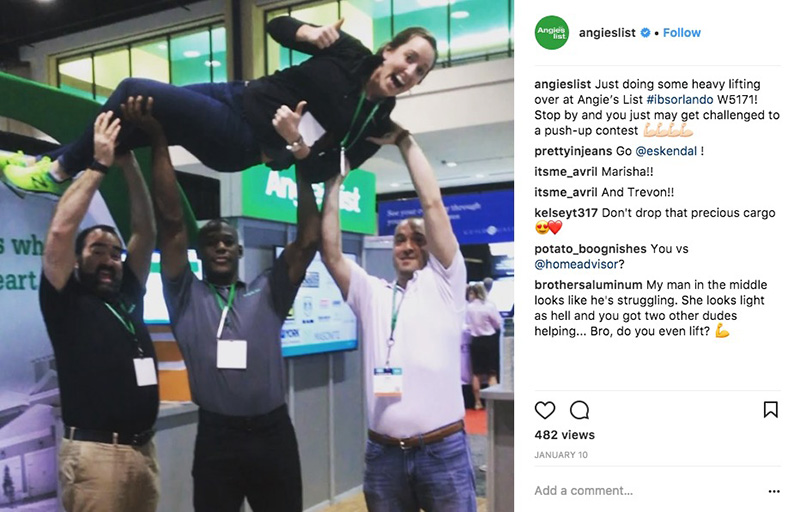 Step 6: Tell a Story
Whether it's a story of one of your customers or your employees, sharing a story can be a great way to build a connection with your audience. If you're a realtor, for instance, you could tell stories about your clients, how you helped them find their dream home, why you do what you do, and more.


Plan Posts That Sell Your Service
You may be wondering why you only want to sell your services in two out of every nine posts. Well, Instagram isn't inherently a promotion platform – it's a place where people share their photos and videos with friends and family. That's why it's important to build a relationship with your audience before going in for the sell. Now is your time to show off a little though! TruGreen did a great job of showing off their superior grass in this Instagram post.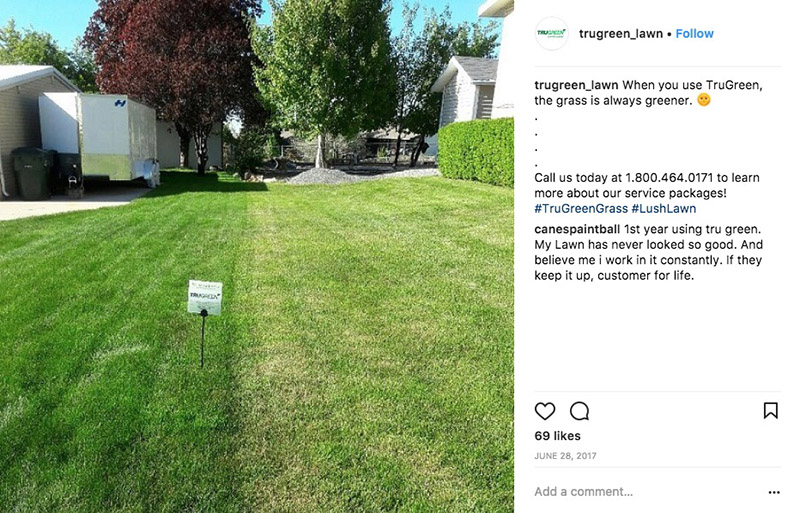 Of course this article only begins to touch on the best practices for selling your services on Instagram. There are plenty of other tips and tricks when it comes to crafting your captions or calls to action. However, getting the basics down and figuring out what type of content you want to share always comes first.
You don't need to be an expert on a topic to teach it. No matter what level you're at, you ARE qualified to teach/train other people — and make a lot of money doing it! 
Step 1: Promote Your Lead Magnet
You've probably heard that building a list of engaged potential clients is very important.  Hopefully, you already know that, at the end of the day, building our email subscriber list MUST BE your priority!  While Instagram doesn't allow us to create hyperlinks in post descriptions, we can still grow our list on this platform by doing a few things and sent the traffic to a landing or squeeze page.
Offering your subscribers a free download of a pdf in exchange of their email address is one of the common ways to grow your list.
(For example, your Instagram bio could state: 'Get your free cheat sheet on how to grow your instagram profile in the link below!)
Focus on benefits for the clients not on the features your pdf has.
Step 2: Share Extra Tips Combined with A Free Challenge/Program/Promotion
If you've ever considered running a free challenge on your site or for subscribers, incorporating Instagram can help increase engagement. You can grow your following and share extra value to participants by releasing extra tips or prompts for participants over on your Instagram account.
By sharing a special image you've created just for the challenge and by using a unique hashtag for participants to use, you'll help increase engagement on your account, grow your followers, and also help convert new and existing Instagram followers into email subscribers.
Step 3: Shoutout People You Admire
This strategy is a great way to get on the radar of influencers you're following. You could give it a go by writing a heartfelt post that perhaps lets your community know how much you enjoyed their book, program, or latest blog post. You could even consider resharing one of their Instagram posts – but if you do please PLEASE credit them.
The strategy is great also to get higher reach. The more you engage with people in your niche, the more potential followers will receive recommendation from Instagram to follow your profile. 
Step 4: Engage with Influencers By Leaving Meaningful Comments
Leaving thoughtful comments on a favorite influencer's Insta posts is yet another great way to not only get on their radar but help you grow your following and connect with ideal clients too.
I discovered this strategy by accident when I began consistently writing meaningful comments on posts from friends and other coaches/influencers I'm crushing on. Doing so, I noticed that I'd see new followers anytime I did.  
Perhaps like me, you've read comments on someone's post and ended up clicking on the commenter's profile to learn more about them?  This is exactly what happens when you start to comment regularly on images, and another reason why Instagram is all about community and brand building.
The key is to make sure that when you leave comments that they are personal and thoughtful.  Never automate your comments using a software or scheduling app.  Eugh!  You WON'T get the results you're hoping for.  Plus it's a seriously shady practice.  As always, authenticity wins.
Step 5: Create An On Brand Feed
I bet you know by now that how you portray yourself and your work online matters. No doubt about it, your brand vibe helps you attract the right people to your community.  The same goes for any content you post on Instagram: the more on brand and appealing it is to the people you want to serve, the more subscribers and followers you'll get.
This doesn't mean you have to be a pro photographer to have a great feed (I know I'm not!)  But you can start getting intentional with what you post by taking a look at your feed (photos on your main profile) and thinking through which colors, styles, and fonts would look best.
Step 6: Let Your Followers Get To Know You
News flash:  We work with people we know, like and trust.  And while many people in your community may never get to meet you in person, they would probably love to know what a day in your life is like!
Coaches can use Instagram to post behind-the-scenes photos from their daily life and showcase their personality.  This is something I'm not so good at, but a great example of this is Leonie Dawson, who shares photos of funny faces that show how warm-hearted and hilarious she is, as well as pics of her family and staff. Someone else who does an awesome good job is Denise Duffield-Thomas.  She shares a mix of personal pics as well as affirmations.
 At the end of the day, what you share online is up to you.  No matter what I say, don't feel you need to expose elements of your private life if you don't want to.  
Share what feels right!
Step 7: Promote Your Work
Yep, you can promote your latest class, coaching package, or blog posts on Instagram without being annoying or spammy! As with most things, it's all about how you do it. Your followers are following you because they're interested in what you do. There's a good chance they'd love to know about your latest offering.
I've learnt the quality of your images and meaningful comments are a big part of this tactic going well.  Have your designer or VA whip up an image that's Instagram-sized for your latest blog post, podcast, or even Youtube video.  Leave a compelling description under the image that will pique your follower's interests and prompt them to head on over to where they can read/watch it.  And anytime you're promoting something specific, be sure to update the live URL link in your Instagram bio to point to the next action step you'd like someone to take.
The key to promoting on Instagram is to keep it relevant and to a minimum. The vast majority of your content should be non-promotional that helps your followers get to know you and your brand, or that inspires them. But when done well, sharing your latest offerings can help you get even more clients.
Don't forget Client Testimonials
Has a client left you a brilliant testimonial? I bet they have! A great way to help build your coaching brand on Insta is to share it along with a photo of your client in your feed.   
Testimonials help showcase your approach, expertise, and ideal clients.  This tactic can give potential clients the extra reassurance they may need to take the leap and invest in working with you.
Strategy 7: IMA (Instagram Marketing Agency)
Instagram is one of the most engaged platforms. Companies who target the audience under 35 are not often run by younger generations. That makes them not authentic to their audience and here is your chance to sell services, manage and grow their Instagram accounts.
Content Management is not the only challenge companies have. Usually companies have great content but poor caption, no hashtag strategy and bad engagement rate. They forget that Instagram is a social media platform and use their page as a show room. 
When you find their weak points and explain them how you can change that and what kind of results your client can expect, you can sign up plenty of companies for your services. 
Conclusion
Instagram is great platform to spend time on it and to earn money. All 7 Strategies require hard work and clear focus. There is no such thing as quick get rich scheme. This fact should not demotivate you, since everybody will have to use same tools and only one who are determined, focused and are hard workers will succeed! 
_______________________________________________________
At Stan Consulting we create Influencers. We create a system and fans of your main account and sent all the traffic to your main page, so your account can grow.